Dj Asad aka DJ Freeaatmah

Founder- Foot Stompin Records
Conceptualized Dance Ganesh
Niche Radio Interview
About
DJ Asad aka Dj Freeaatmah was voted India's number one DJ and number one Trance DJ in 2010/2011. He is the pioneering musician in the PSY and EDM scene in India; it is he who paved the way for the inception of a whole new industry with his persistence and passion. He is one of the KEY people who has helped to make the profession of 'Disc Jockey' become widely accepted and highly respected. He is also the founder of Foot Stompin Records.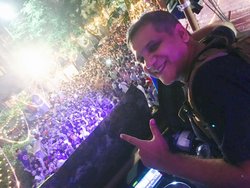 Through decades DJ Asad has been the first to do many spirited events. He conceptualized, produced the world's first and only 'Dance Ganesh' a street parade of it's kind since 1999. This year "Dance Ganesh Festival" was celebrated online streaming due to the recent pandemic that hit worldwide which enforced social distancing rules. Over the years many followed Dance Ganesh and here is what they had to say.
He also conceptualised and executed Mumbai's very first Barge Parties of the early 90s which gathered over 3000 revellers to dance and celebrate the sun rise in the heart of the city. He co-founded and managed India's revolutionary open-air Trance Club, Paradiso de Anjuna in Goa (1994-2000) and pioneered the 'Greenstock' Music Festival in Bombay close to 2 decades back in 1996-97. He is the first ever Indian Dj to be invited to perform at the Boom Festival 2006;
Recently, Asad launched a range of therapies in which sound is used to treat physical and mental conditions. Sound Therapy helps not only in achieving a state of relaxation but helps in opening blockages in the body. Sound Therapy is known to treat conditions as stress, anxiety, high blood pressure, depression, sleep disorders, pain and autism.
To know more on Sound Therapy and book appointments please email at djasad@gmail.com